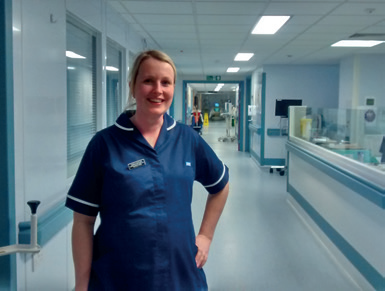 Being a Part of Organ Donation
Our DCC and Theatres staff have been highlighted for their hard work to support organ donation in our hospitals. During the last financial quarter there were thirteen life-saving transplants from Gloucester organ donors with fourteen organs retrieved.
Specialist Nurse for Organ Donation Leanne Fare said: "This could not have been achieved without the hard working staff of the Department of Critical Care and Theatres team."
Ward Sister Sarah Mathers works in the Department of Critical Care at GRH and says: "I have worked in the Department for six years and have been a Sister for the last seven months. Over the last few years, I have noticed an increase in the number of organ donations referrals we have made. Particularly in the last three months, there have been four organ donors which have meant that thirteen people have had life saving transplants. I believe some of this is due to the fact we have a specialist organ donation nurses based in the Trust. Also, I feel that public awareness of organ donation has also changed and more relatives are approaching the subject with us. It is interesting that themajority of us would accept an organ but not all of us would donate our organs."
"As a team our first priority is always the patients care and treatment. We always endeavour to get the best outcome for our patients and return them to their normal quality of life. Sadly, sometimes we can do no more for our patients and treatment is futile. Organ donation is always approached in a sensitive way and at the right time. The priority of the organ donation team is always to support the family regardless of whether the patient goes for donation or not. The relatives of the donor are followed up by the organ donation team if they wish. They are also given information as to what organs were taken and who they have helped without breaching confidentiality."
"On our unit we offer a bereavement follow up for any patients that sadly die on our unit. We call these relatives usually between six to eight weeks after patient has died. In my experience the relatives that have donated their relative's organs have found it a positive experience to help with their grief."
"As nurses we also receive feedback from any organ donations that have taken place. This allows us as nurses to follow the whole process and hear of the positive impact these tragic circumstances can have".